OH BABY! Region's Top Baby Names Revealed
Unique, regal, popular, traditional. Choosing a baby name is a big decision for parents. Today we are excited to reveal the 10 Most Popular Baby Names across Mid-Michigan, Great Lakes Region and the Thumb picked by parents who choose to deliver at the region's destination hospitals – Hurley Medical Center and Hurley Children's Hospital!
In 2022 HUDSON and LEVI were the most popular names for baby boys with 13 babies named Hudson and 13 babies named Levi. NOVA was the most popular name for baby girls with 12 babies named Nova.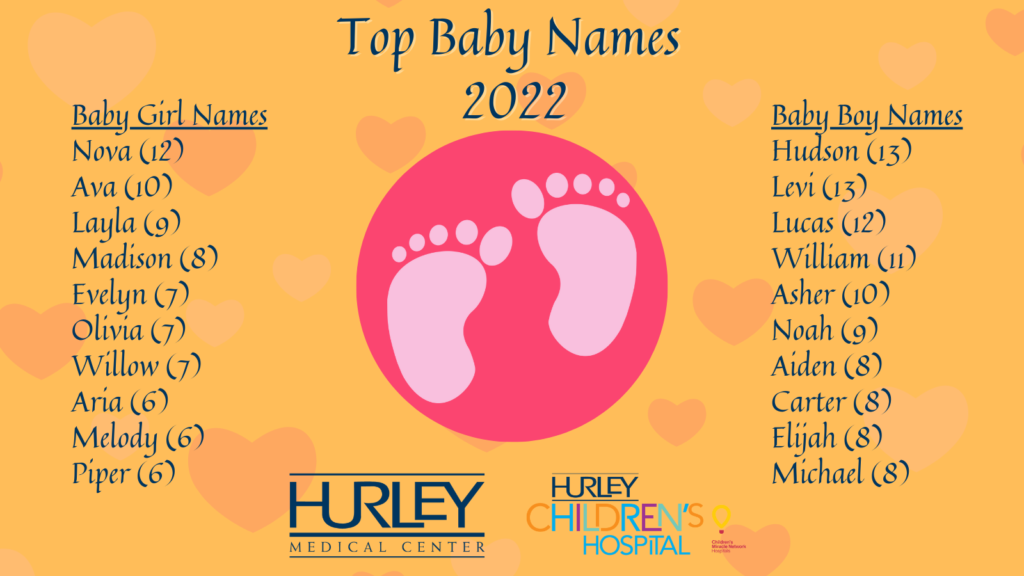 There were inspirational names like Honesty, Karisma, Love and Promise as well as unique names like Unique, MiAngel, JaMerica, Jersey, Navy, Ozzy and Sevyn.
There were many regal names like Prince, King, SirKingston, Legend and ALegend as well as unique names like Humble Tau, Sincere and Uzzle.
Whatever the name, we consider them all Hurley Miracles and look forward to providing them a lifetime of good health, starting at Hurley Children's Hospital.