JOANN Inspires Customers to Create and Donate for Hurley Kids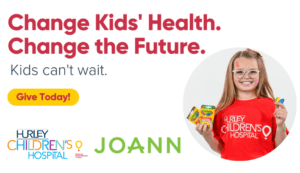 JOANN, the nation's leading fabric and craft specialty retailer, has inspired customers to create and give back with their hands, hearts, and minds. For over 75 years, corporate giving has been a central part of JOANN's identity. We're excited that JOANN is bringing that philanthropic spirit to Children's Miracle Network Hospitals as a new national partner in 2022.
With 850 stores across 49 states, JOANN will host year-round (February – October) coin collections at their registers in addition to a POS campaign during the month of August. Proceeds from these fundraising initiatives will benefit patients right here at Hurley Children's Hospital.
Children's hospitals are in crisis as pediatric hospitalizations due to COVID-19 have risen to record levels across the U.S. Emergency departments and intensive care units are stretched past their limits with fewer medical staff to care for the sickest patients. On top of treating kids with COVID-19, children's hospitals continue to care for everything from broken bones to cancer and all the moments in between. But we can't do it alone.
With the help of national CMN Hospitals partners like JOANN, giving is made easy and donations can transform how Hurley addresses the most urgent needs brought on by the pandemic, while still maintaining an exceptional standard of care and well-being.
Kids can't wait, they need our help now. Next time you're shopping for your crafting, sewing and creative needs, choose JOANN and turn in your extra change to change kids' health and change the future right here in our community.